What you didn't know about our eyelet setters that will be of special interest to you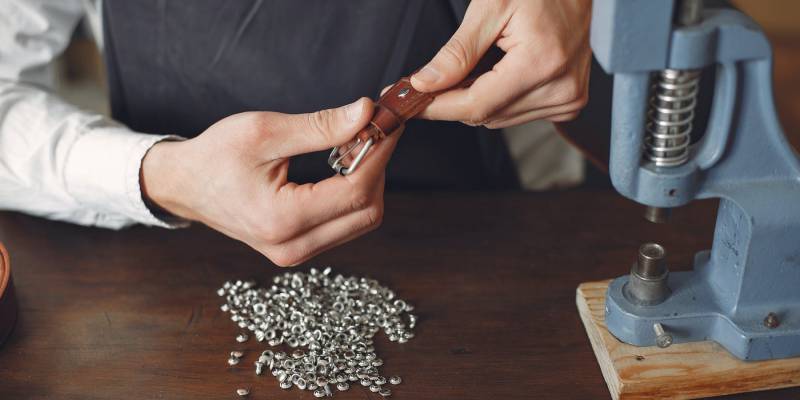 14 Dec 2021
Do you want to put an end to the delays and problems that arise during the finishing process? JOPEVI eyelet fitting machines are proven to provide improved performance, productivity and time optimization . Aren't these the biggest goals to be achieved in any workshop or industrial factory?
Not complying with your customer or supplier is possibly the biggest headache in your business and one that you would like to correct. For any specific industry need, JOPEVI is always there to solve it and turn it into a great opportunity. We offer facilities and comforts with adequate budgets for each situation and an exceptional personal and humane treatment .
We are the manufacturer and supplier of state-of-the-art eyelet fitting machines trusted by companies that are committed to growth, innovation and market leadership. If you are interested in renewing your machinery , now you can do it from anywhere in the world. We have a wide network of distributors in France, Germany, Portugal, the United Kingdom, Russia, the United States, New Zealand, Australia , etc. We will deliver your machinery wherever you are. So comfortable.
Types of Eyelet Machines: which one to choose?
The eyelet fitting machines that are made now are much more powerful and faster than the old ones. You will see the best example in JOPEVI's automatic machines, currently the fastest and most complete on the market . They are manufactured according to the most common needs of the operators, being able to even concentrate in the same machine all the necessary movements ( All in one !), From the approach of the rivet, the action of riveting and the placement of the eyelets in the precise place .
The industrial sector is one of the most reluctant when it comes to betting on innovation and technology. For this reason, those who do, stand out from the rest and stand out by offering a higher quality product, resulting in the short term greater agility in production and a better relationship with customers . Depending on the use you are going to give it, in the JOPEVI web catalog you can find two main types of sniffing machines:
What do I have to take into account before choosing the right sniffing machine? Aspects such as the dimension, the power or the type of eyelet that you are going to apply can help you in making the decision. However, we recommend that, first of all, you get in touch with our specialists and clarify all kinds of doubts.
Everything you need to know about eyelet machines: prices, features and technical data
If you're making a significant investment in eyelet machines, make sure you do it right. At JOPEVI we inform you extensively about the different types of machines on the market, adjusting to your budget and needs .
We will be happy to advise you by phone, email or in person at our office (Calle Nicolás de Bussi, 32, 03203 Elche Parque Industrial, Alicante). Call us at +34 966 651 008 or send us a message to info@jopevi.es . Without obligation!